J. P. VERMA, Ph.D.
Vice Chancellor
Sri Sri Aniruddhadeva Sports University
(A State University of Govt. of Assam)
Chabua, Assam &nbsp &
Email: vermajprakash@gmail.com

Specialization: Sports Statistics, Reseacrh Design, Sports Gentics, Data Analytics

Resume &nbsp CV
Prologue:
Prof. J. P. Verma, the visionary Founder Vice Chancellor of Sri Sri Aniruddhadeva Sports University, a State University under the Assam Government, demonstrated unparalleled leadership by swiftly operationalizing the university within six months of assuming the role. As the founding Vice Chancellor, he meticulously crafted the university's vision plan, established infrastructure details, and formulated statutes, ordinances, an Institutional Development Plan, and various regulations. An educational pioneer, Prof. Verma initiated the first four-year UG program in Physical Education in accordance with the National Education Policy, marking a significant stride in progressive education from 2023.
Empanelled as a consultant for the Association of Indian Universities in 2023, Prof. Verma's expertise extends globally. He has authored ten acclaimed books with renowned international publishers such as Wiley, Blackwell, Springer, and Tata McGraw Hills on research methodology in different areas. With a rich academic background encompassing three master's degrees and a Ph.D. in Sports Genetics, Prof. Verma has been at the forefront of academia for over 41 years.
His influential roles, including Head of the Department, Director, Centre for Advanced Studies, Dean of Students Welfare, and In-Charge Vice Chancellor at LNIPE, Gwalior, underscore his multifaceted experience. Prof. Verma's commitment to research spans Sports Statistics, Talent Identification, and Research Methodology, evident in his numerous published research papers and guidance to numerous Ph.D. scholars.
A trailblazer in innovation, Prof. Verma holds a patent for the FitnessWatch, a Fitness Assessment and Management System for school children and youth. His significant contributions extend to completed research projects on Fitness Assessment and Talent Identification in Sports, funded by the Ministry of Sports and Youth Affairs, Government of India.
A sought-after speaker, he has been invited by many universities in India and abroad, showcasing his global influence. Prof. Verma's commitment to advancing education is further evident in his leadership roles as Chairman of various UGC committees and as an expert for UPSC. Moreover, he initiated a movement for Quality in Higher Education Research, developing guidelines, processes, and protocols, and conducted workshops on research methodology worldwide, sensitizing researchers to global standards. Prof. J. P. Verma's legacy is one of transformative leadership, academic excellence, and a tireless commitment to advancing education on a global scale.
Current Position:
Prof. J. P. Verma is currently holding the position of Vice Chancellor at Sri Sri Aniruddhadeva Sports University in Assam since June 2020. This is a state university of the Government of Assam established in Chabua, Dibrugarh, Assam.
Previous Positions:
In-charge Vice Chancellor, Lakshmibai National Institute of Physical Education, Gwalior, November 2014 to September 2015.
Professor, Lakshmibai National Institute of Physical Education, Gwalior, January 4, 2003, to June 21, 2020
Reader (Statistics), Lakshmibai National Institute of Physical Education, Gwalior, January 4, 1995, to January 3, 2003.
Lecturer (Statistics), Lakshmibai National Institute of Physical Education, Gwalior, January 4, 1982, to January 4, 1995.
Education:
Ph.D. in Mathematics (1991) – Jiwaji University, Gwalior.
Master's in Statistics (1980) – Kanpur University (Ranked 1st in the university).
Master of Computer Application (2001) – IGNOU, New Delhi.
Master's in Psychology (1994) – Jiwaji University (Ranked 1st in the university).
Statistics and Research Books
About Book:

This book offers a comprehensive overview of Structural Equation Modeling, applicable across various disciplines. Using a 'simple to complex' approach, it covers topics like variance, covariance, correlation, multiple regression, mediation, moderation, path analysis, and confirmatory factor analysis. The text discusses initial steps in modeling, including specification, identification, estimation, testing, and modification, and provides an introduction to IBM SPSS and IBM SPSS Amos software. It demonstrates how to develop measurement and structural models using this software. The book emphasizes conceptual clarity, practical solutions, and interdisciplinary applications in psychology, education, sociology, business, medicine, political science, and biology.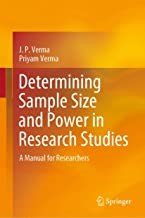 About Book:

This book educates on sample size and power in research, vital for students and researchers across disciplines. It emphasizes estimating sample size and reporting test power to enhance research authenticity. The text delves into sample size determination in surveys and hypothesis testing, elucidating statistical errors, minimum detectable difference, effect size, and test power. Emphasizing maintaining power above 0.8, it warns that a power below 0.5 renders experiments unreliable. It also demonstrates sample size and power determination using G*Power software, employing various analyses like t-tests, correlations, regressions, and ANOVA. This comprehensive approach strengthens research credibility and paper acceptance in prestigious journals.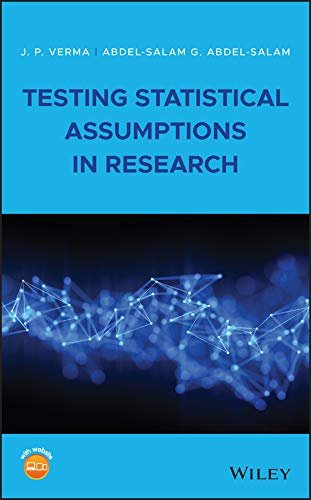 About Book:

This book educates on testing statistical assumptions, emphasizing its crucial role in research. It guides researchers through checking and handling assumptions, discussing hypothesis testing, statistical errors, power, sample size, and effect size. With a focus on SPSS functionality, it covers diverse assumptions in survey studies, offering insights into parametric and non-parametric tests, correlations, and regression analyses. The text effectively illustrates the impact of assumption violations on findings and serves as a valuable reference for graduate students, emphasizing its relevance for thesis or dissertation writing and empirical studies across disciplines.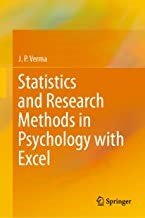 About Book:

Tailored for psychology students, this comprehensive book extends to various disciplines like management, sociology, and education, emphasizing statistical analysis in Excel. Chapters offer self-assessment sections, aiding students' comprehension. It tackles the challenge of measuring subjective phenomena, highlighting techniques vital for translating them into numerical data for statistical analysis. Beneficial to humanities and life science students, it covers 14 chapters on crucial statistics and research topics, guiding students in research planning and execution.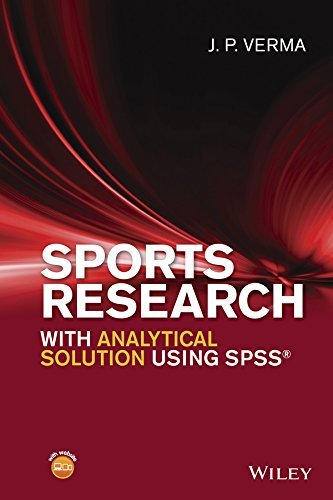 About Book:

This book offers a systematic SPSS®-based problem-solving approach for sports science and physical education. It emphasizes practical application over mathematical complexity, providing analytical solutions to various research issues. Arranged logically, it covers fundamental and advanced concepts, illustrating univariate and multivariate techniques such as regression, discriminant analysis, and factor analysis. The book includes examples, screen shots, and simulated data, with exercises to reinforce understanding. Designed for undergraduates, graduates, and researchers in sports science and related fields, it serves as a valuable reference for anyone interested in SPSS®-based sports research and analysis.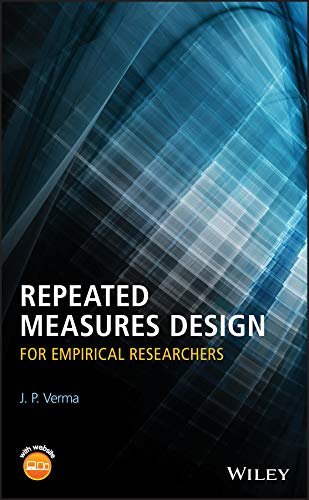 About Book:

This book introduces IBM® SPSS® applications for repeated measures design, covering research question formulation and analysis. It emphasizes conceptualizing research problems and selecting appropriate designs, featuring examples from psychology, social sciences, and sports. It covers fundamental concepts, statistical designs, and computational details, including sample size determination. With real-world examples and a companion website for supplementary resources, it serves graduate and PhD students in various fields, offering insights for professionals and consultants in experimental designs and statistical sciences. Authored by J. P. Verma, PhD, the book provides practical expertise in sports modeling and data analysis.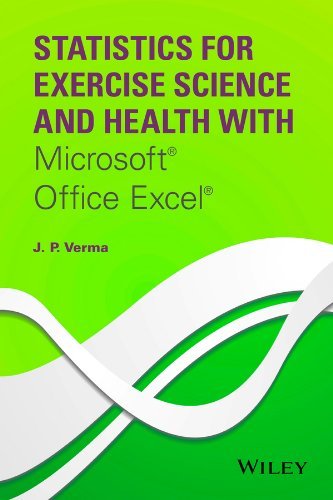 About Book:

This book introduces statistical solutions in exercise science and health, laying a strong groundwork for research and data analysis. It guides readers in applying statistical techniques via Microsoft Office Excel, emphasizing hypothesis testing and regression models for sports science modeling. Covering binomial and poison distributions, it offers solved examples, exercises, and case studies for practical understanding. With defined concepts and formulas, it enables readers to proficiently tackle research problems and develop statistical skills.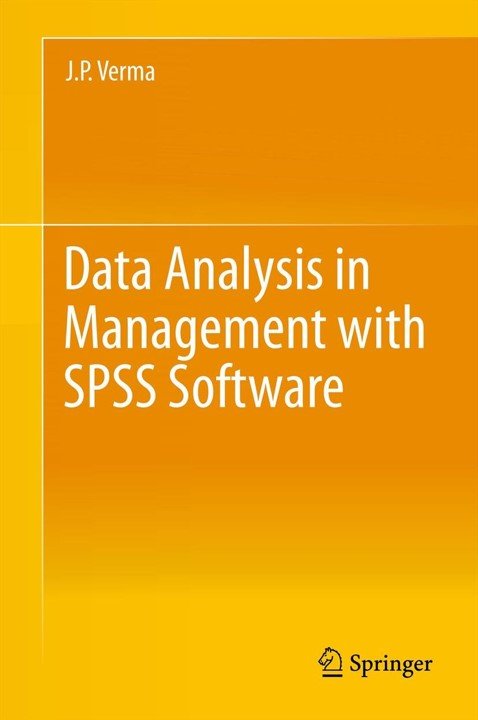 About Book:

This book enriches readers' comprehension of diverse statistical techniques and SPSS operations, fostering intuitive understanding for enhanced future data analysis. It offers refined data control, broadening the application of techniques across various research realms. Tailored for management, humanities, and social and behavioral sciences, it equips readers with essential SPSS-based research knowledge and skills.